This is sample Session for Weight Loss Detoxification countering Session 60 or 90 min available. sessions include all of the modalities offered in the Cohesive Massage Experience Treatment but with a emphasis on detoxification and/or weight loss. 
The series works best over six session one week apart, with a focus on each area of the body per session, covering the whole body thoroughly within the six series program. Please contact us for up to date pricing.
Dry brush the whole body posterior

Apply essential oils of Lemongrass for Lymphatic drainage

(Optional but recommend for maximum benefits.)Soak in heated infrared wrap for 20-30 min, swaddled light to tight depending on your preference

Apply cool peppermint infused cold washcloth on forehead.  

Unwrap and start to work on focus areas eg. Arm, Legs, Glutes. 

Apply manual Lymphatic Drainage utilizing massage and massage cupping styles silicone, kungzu and cupping machine 
Anterior Same as Posterior Plus
Finish Abdomen and diagram drainage

Breast towel over breast

Massage diaphragm and abdomen

Drain abdomen

Cup placement or suction release lower colon

Finish with gentle face massage and medical cupping with mini cups to further Contour Face and clear Lymphatic pathways in Decolletage  and neck region.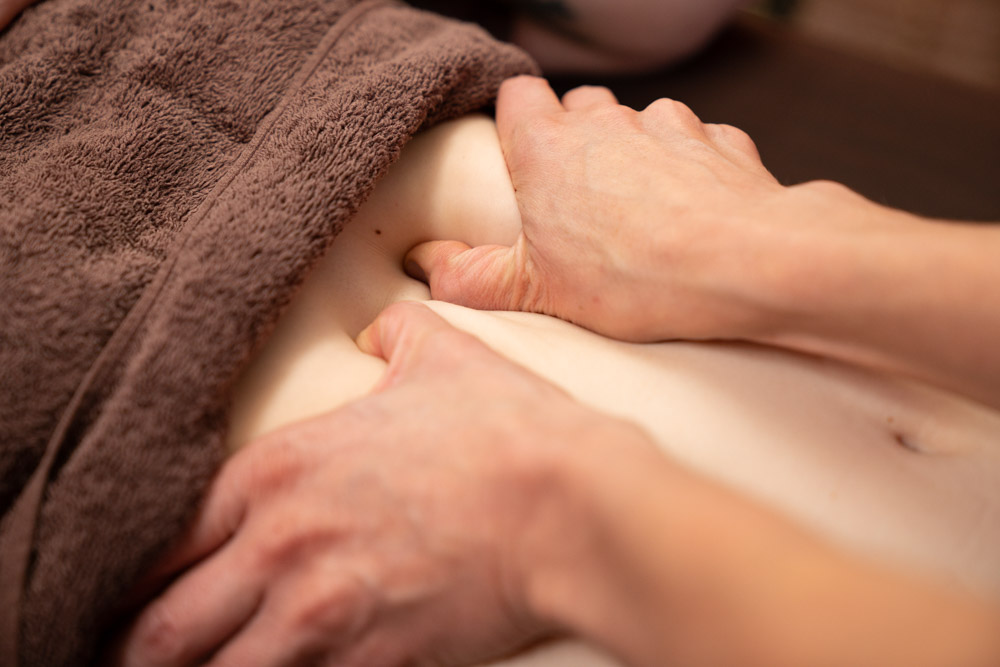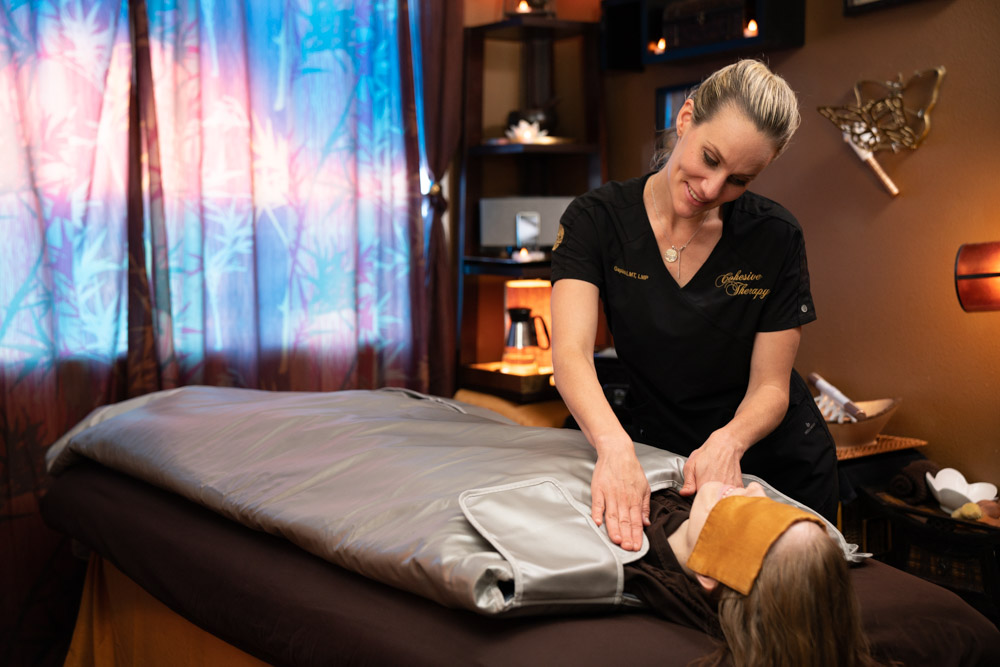 Clients come to us with Pre-Post Surgery needs before or after a reconstructive surgeries, C-Section recovery or simply to detoxifiy and reset your system.
Many clients have said the treatments are so effective in contouring and weight loss that they are finally energized to start a new habit of self-care into their lives that create sustaining change. 
All new clients will receive a full assessment to super fine tune your treatment goals for the series. Please review the self care page for more information, these techniques are encourage to apply into our lifestyle for the best benefits.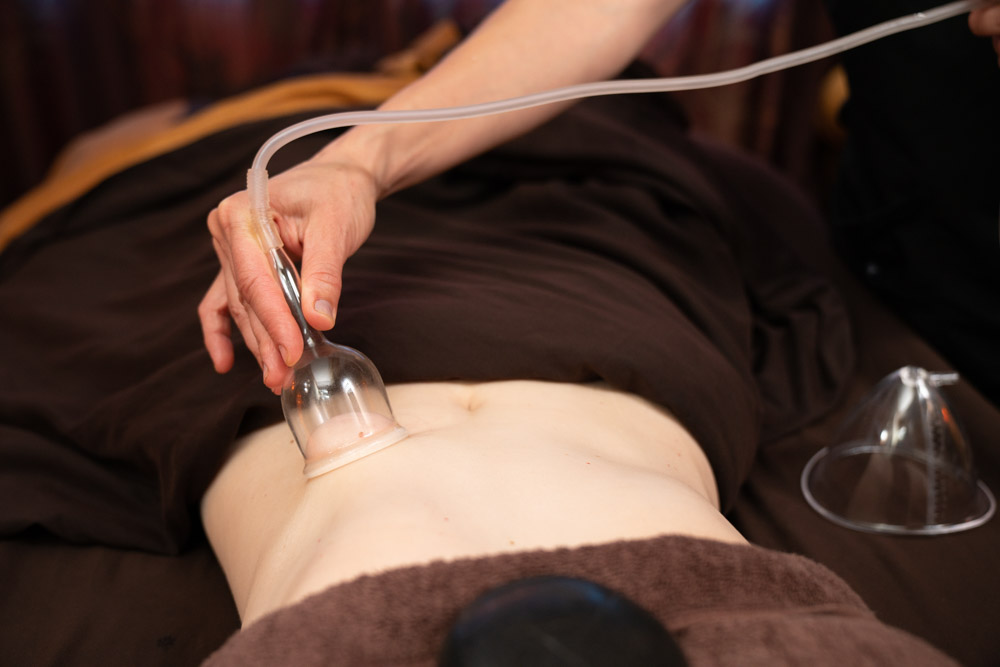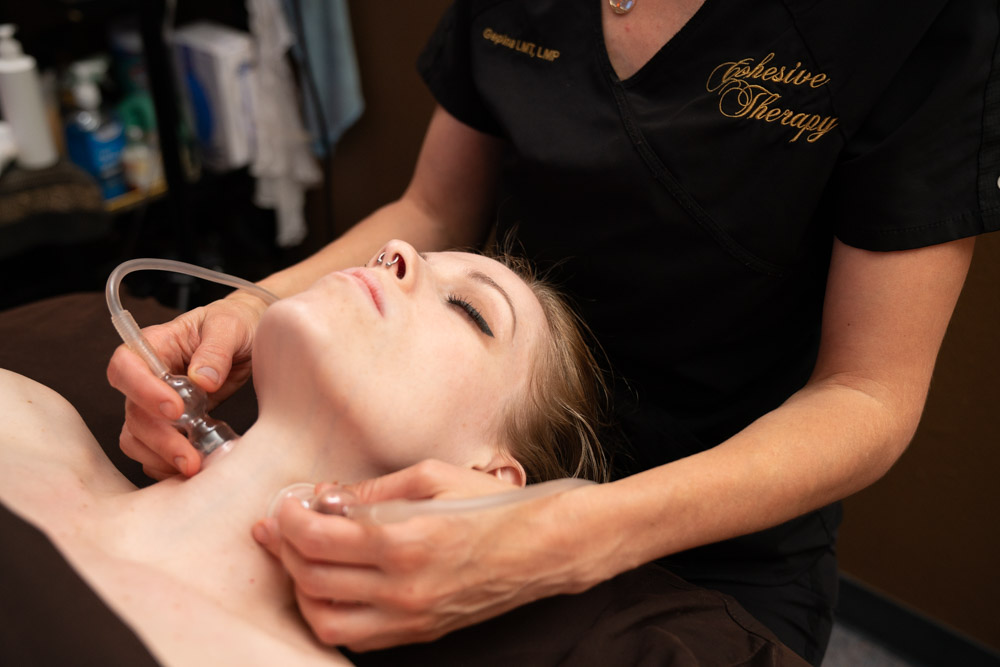 I cannot possibly say enough to thank everyone here!!! I came in for pre-op work with severe scar tissue from c-sections and major weight loss. I wish I had started sooner because my results were simply magical.
I do a combination of deep tissue massage, dry brushing, cupping, red light therapy, scraping, and wraps (probably more).
I first reached out to talk about MLD (manual lymphatic drainage massages) for my post op care and quickly decided to go in pre-op. It made a HUGE impact on my body, my well-being, and on my recovery post op. You can SEE the results (I'll add photos later – I will cover as much as I can but this could be graphic for some and will be in the replies).
I love the environment and the treatment physically and personally. I have been nearly dragging my loved ones there because of the amazing positive impact they've had in my life. I can't wait to get back in there after the quarantine.
I even received a call during quarantine just for Gepina to check in on me after my major surgery. That care is unprecedented.
See you soon! I am eagerly awaiting (dibs on first appointment!!!)